Ensoniq ESQ-1 (metal-case)
Released in 1986
The ESQ-1 was Ensoniq's first synthesizer, and is a very cool synth with a digital wavetable mated with analog filters and VCAs. It's 40 internal sound programs could be augmented with an 80-voice cartridge. The ESQ-1 has a very easy to use sequencer, and you could purchase sequencer expander cartridges to push to note capacity up to 10,000 or 20,000 notes. There were two versions of the ESQ-1 produced - the original had a metal case (the 'ESQ-1' logo is directly over the pitch bend and mod wheels), the second version had a plastic case (the 'ESQ-1' logo is directly over the lowest notes of the keyboard) - and they were functionally identical. A rack version ESQ-M was also produced, and this is a sound module only, with no sequencer.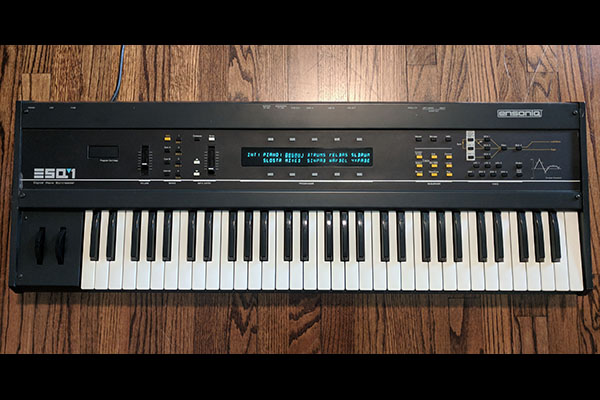 All photos are copyrighted by Syntaur, and may not be used without permission.
We stock both NEW and USED parts; all used electronic parts are tested and guaranteed working.
This listing reflects our current inventory and is updated in real time. If a part is shown as Out of Stock, we typically don't know when or if we might have it again - but click on the part for more info, and then you will be able to sign up for an alert when we do have it available again. By including out of stock parts in our listings, we hope to offer customers a more complete and useful resource.
We cannot diagnose repair issues by phone or email. For technical questions, we suggest posting on our Forums, where our techs - as well as other users - can offer help.