Ensoniq Mirage DSK-8 (Gray)
The Gray DSK-8 was the second-generation Mirage, still in a metal case, but now sporting a dark gray paint job and a much-improved Fatar keybed. You can easily distinguish these Mirages by the smaller buttons - now gray, yellow, white, and black. Both versions of the DSK-8 sold for $1695, and included two sound disks, a sustain pedal, the Musician's Manual, the Advanced Sampler's Guide, the Formatting Disk, and a laminated Parameter Reference Card. Back panel connections were mono Audio In and Out jacks, a Sync jack, MIDI In and Out/Thru connectors, a Foot Switch jack for the sustain pedal, and an expansion port on the back panel for either an ISF-1 Input Sampling Filter or the SQX-1 Sequencer Expander. The Sync jack on the back panel was intended to sync the Mirage's sequencer to an external clock source; since the sequencer is all but useless, the Sync jack and circuitry were dropped on the later DSK-1.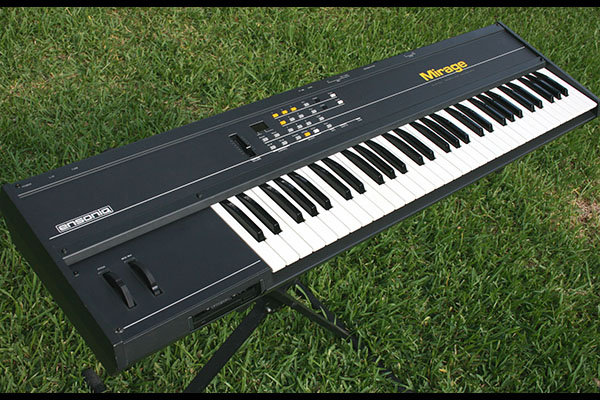 All photos are copyrighted by Syntaur, and may not be used without permission.