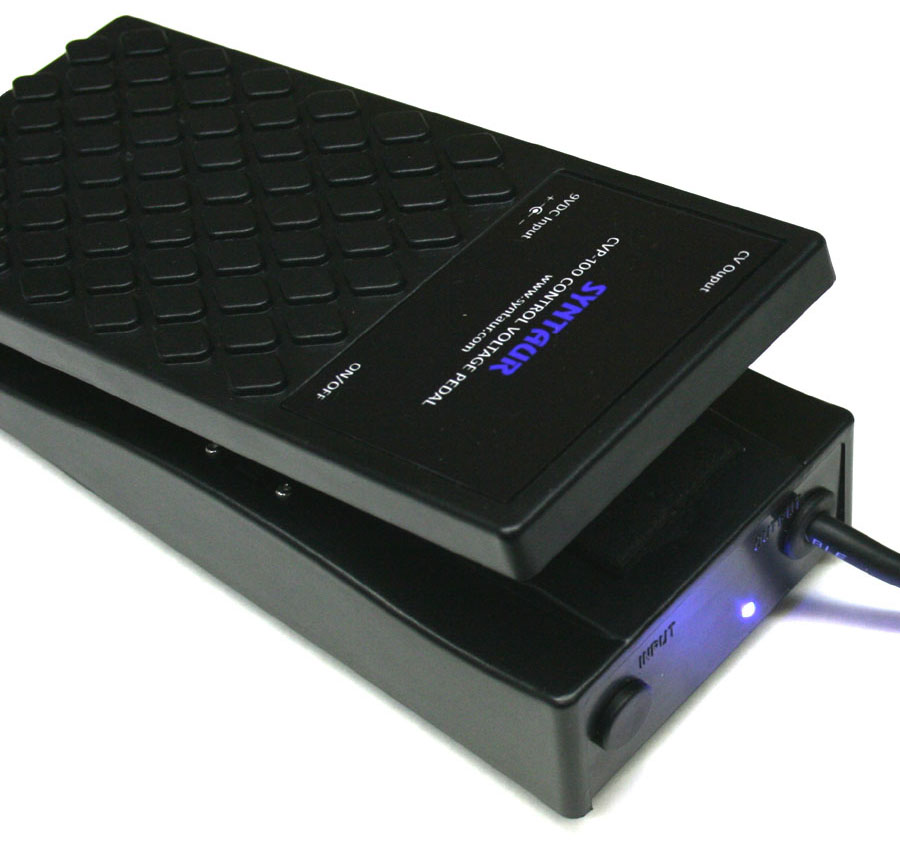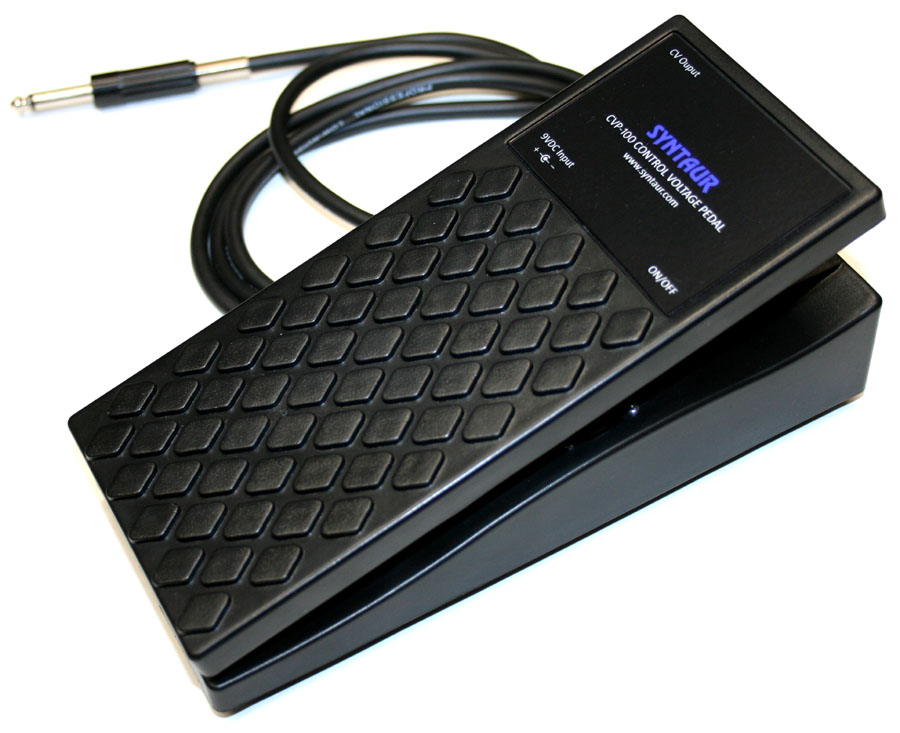 Syntaur CVP-100 Control Voltage Pedal
Similar to the classic Moog Model 1120 pedal, the Syntaur CVP-100 pedal is a control-voltage (CV) source for use with analog synthesizers. It generates a voltage, the level of which is controlled by the pedal, and by plugging the 1/4-inch phone plug into a CV input of a synthesizer, you can control filter sweeps, volume, pitch, etc. This sturdy pedal is a great expressive tool for use with your vintage synths!

Requires 9-volt battery (not included) or optional power adapter.
Weight: 1.3 lb. Cable length: 70 inches.
CVP-100 Control Voltage Pedal
(Part #CVP100)
Out of stock
$59.95
9-volt U.S. Power Adapter (Part #3628)
$12.95
Click on photos to enlarge


Use this pedal with:
Alesis Andromeda, CV Inputs
Arp 2600
Arp Axxe, Pedal
Arp Odyssey, Pedal
Arturia Minibrute, Amp, Filter, Pitch (3.5mm adapter required)
Crumar Spirit, Filter Pedal
Dave Smith Insruments Mopho, Pedal/CV
Dave Smith Insruments Prophet 08, Pedal/CV
Doepfer Dark Energy
Korg MS-10, MS-20, MS-50, any CV inputs
Moog Memorymoog, Footpedal In 1 & 2
Moog Micromoog, Filter, Oscillator Inputs
Moog Minimoog, any of the 3 External Control Inputs (Loudness, Filter, Oscillator)
Moog Minimoog Voyager, any of the Control Inputs
Oberheim Matrix 12, Pedal Input 1 & 2
Oberheim OB-8, Foot Pedals
Oberheim OB-Xa, Vibrato, Filter
Oberheim SEM
Octave Cat, Filter Pedal
Octave Plateau Voyetra 8, Footpedals
Roland Juno-6, Juno-60, VCF Control
Roland Jupiter 6, Jupiter 8, VCF, VCA
Roland RS-505, VCF, Pitch Control
Sequential Circuits Pro-One, Filter CV In
Sequential Circuits Prophet 5 & Prophet 10, Control Voltage In
Studio Electronics Boomstar, CV In
Yamaha CS5, Control Volt In
Yamaha CS10, Key Volt In
Yamaha CS15, Control Volt In
Yamaha CS40M, Filter Foot Control
Yamaha CS50, Foot Controller
Yamaha CS70M, Foot Cont (Modulation, Brilliance, Volume)
Any modular synthesizer
And many others